Boat Anchor Net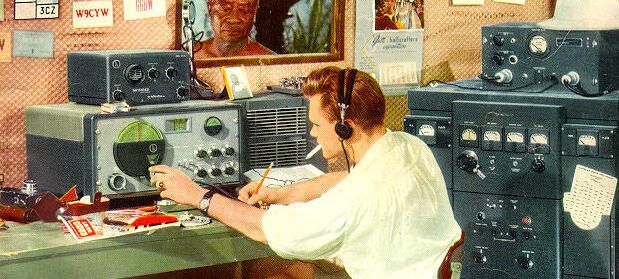 The Finest Hour of Ham Radio
Every Wednesday at 7:00PM Central on 3.870 MHz
Latest Net Recording
December 28, 2022KL7CD Net Report33 check-ins on 34 rigs (I checked in on 2 different rigs). Lynn got 1/2 rig credit for his Collins/Heathkit/Studebaker lash-up. 1/2 Collins & 1/2 Heathkit. Tonight's rig count:Solid state = 6
Kenwood = 8
Hallicrafters = 3
Collins = 7-1/2
Galaxy = 1
Heathkit = 1-1/2
Central Electronics = 2
Swan = 4
Drake = 1Total rigs = 34Largest rig count in quite a while.
Happy New Year,
Mike KL7CD
Mike KG7TR
The radios next to me are the 20 meter Vintage SSB Special radio set I built in 2009. Directly above those is a four band SSB transmitter built around 1970. I've always enjoyed "homebrewing" my own equipment, starting with a 6AG7/1625 novice transmitter circa 1961. Since 2009 I have homebrewed several vacuum tube SSB radios and writing associated articles for Electric Radio magazine. You can see all of my radios at kg7tr.com.
September 17, 2020: My latest 80 meter transceiver project has been going well. Tx and Rx circuits are working great, so now it's down to T/R switching and metering incorporation. I have even successfully implemented a 7360 for the Tx mixer. My previous homebrew experiences with that tube were 50 years ago and were not good. But now that I understand it better, it is working as advertised.September 29, 2020: My 75 meter transceiver is now completed. I'm calling it the HB-75. In the next few weeks I'll be drawing up the schematic and writing a Tech Description. When done, I will post them on my website at kg7tr.com.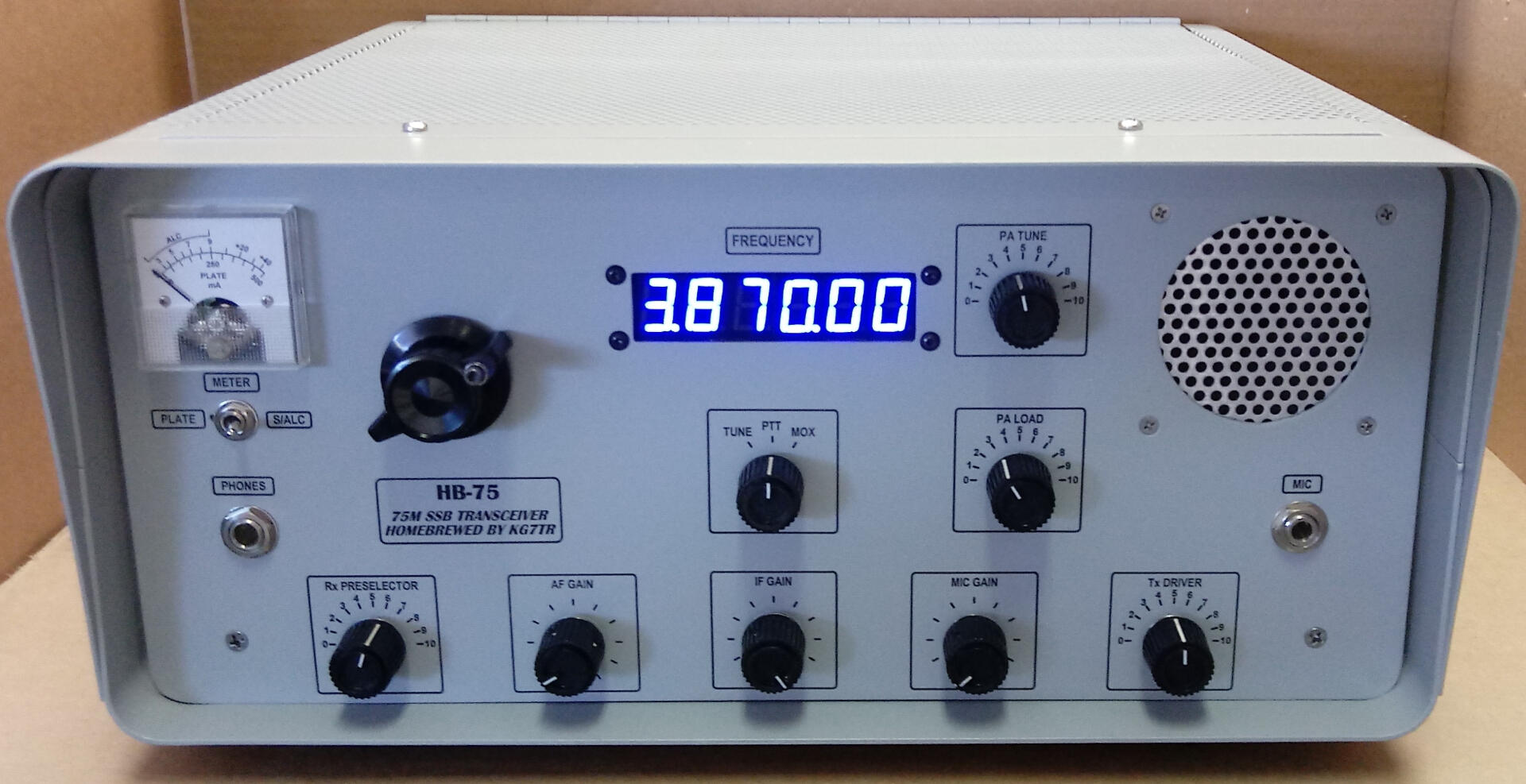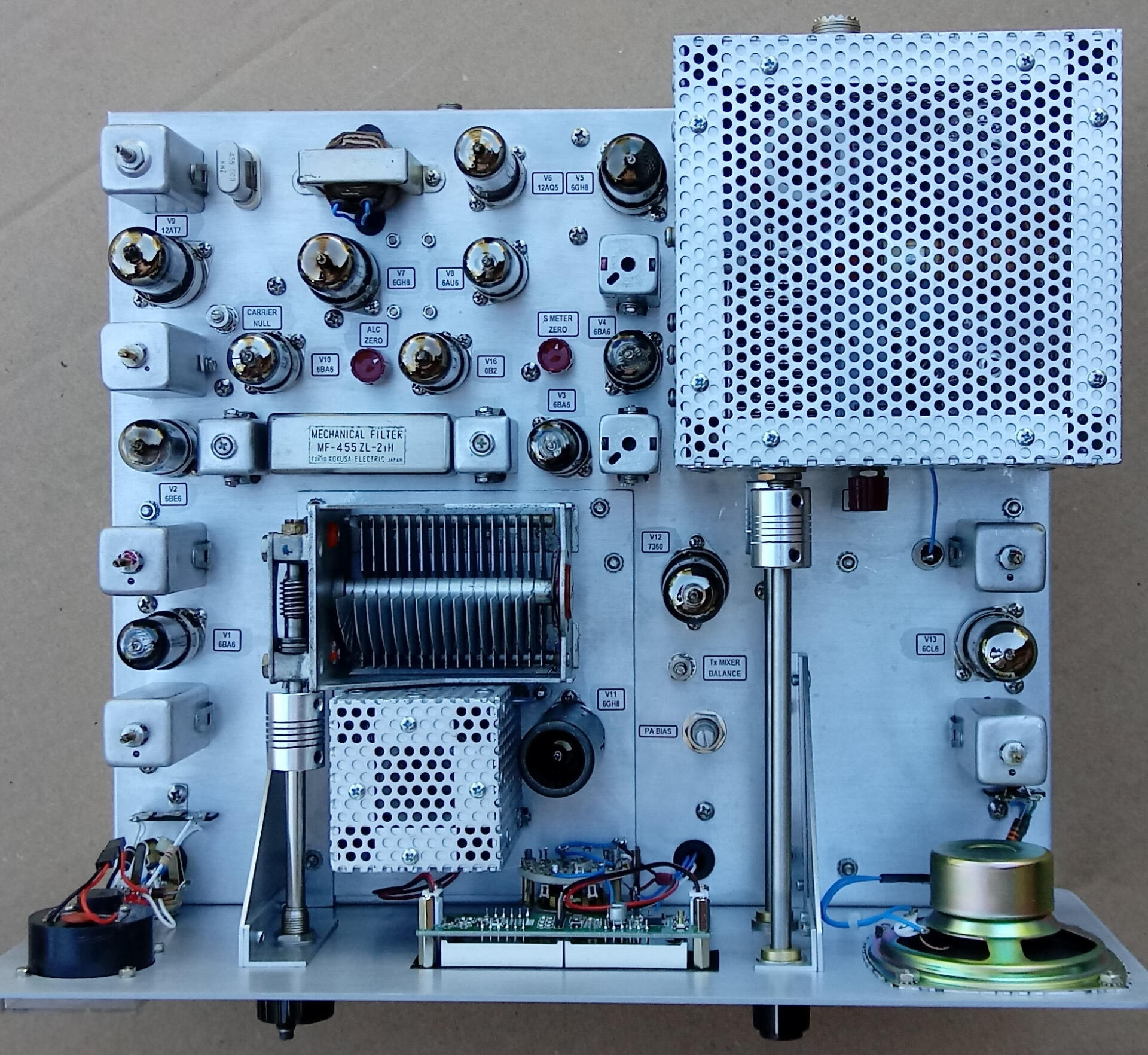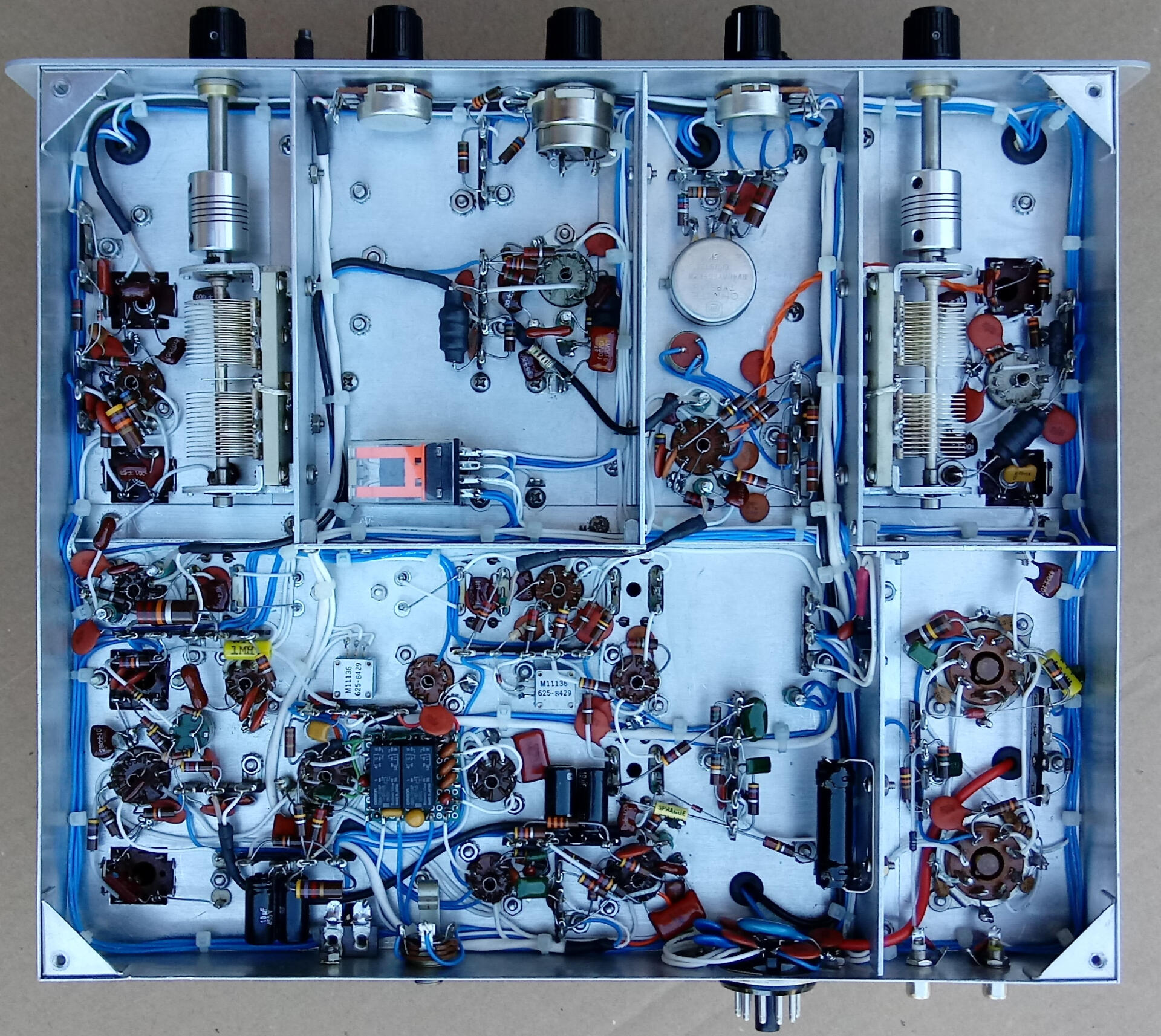 Mike KL7CD
This is my go-to station for Boatanchors Unlimited each Wednesday evening. "The finest hour of ham radio for the week". From left to right Hallicrafters SX-117 rcvr, HT-44 xmtr and matching speaker/power supply. I usually operate with the rcvr vfo controlling the transmit frequency so it operates like a transceiver. Amplifier is a Heathkit "big green box" SB-220. Operating table is homebrew and contains more Boatanchors.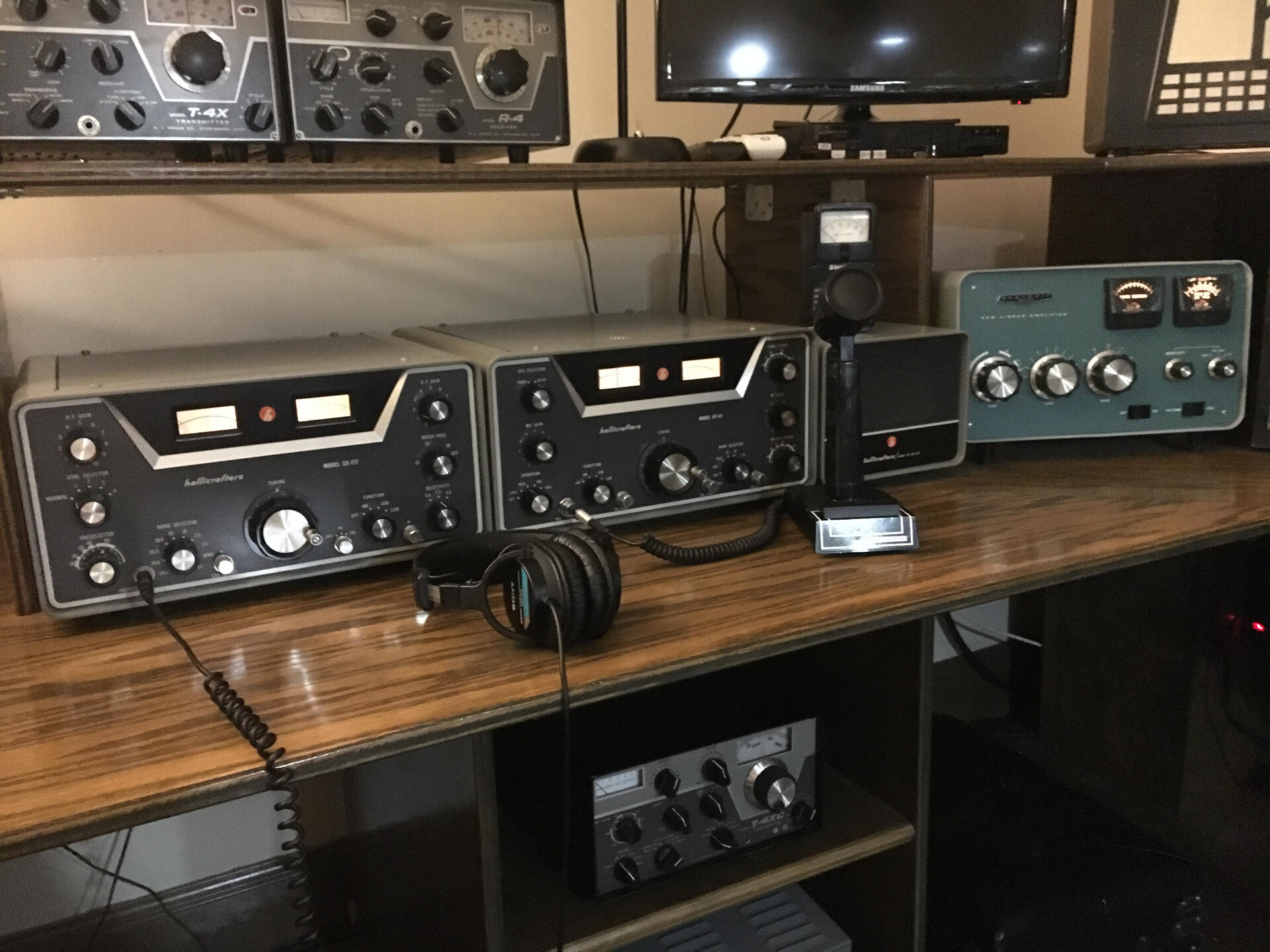 Jay KM5QS
Here is my "Kenwood Museum" T599D/R599D/SHURE444/S599, SP230.
In the old Motorola rack TS-830S GOLD/VFO230/SM220/AT230/MC-60/30L1
See y'all Wednesday night
73, JAY KM5QS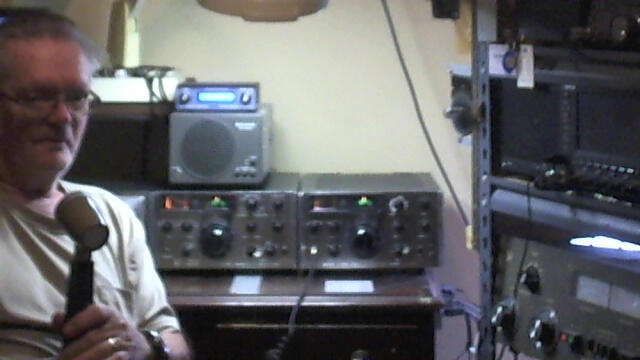 Lynn K5LYN
The Central Electronics 10A, 5 watts, drives an old Knight Kit CW transmitter, converted to a one tube amplifier, delivering 30 watts to an L4B. The station transceives with a Drake R4 receiver using a transceive adapter that I built. About 400 watts of SSB were transmitted to the net.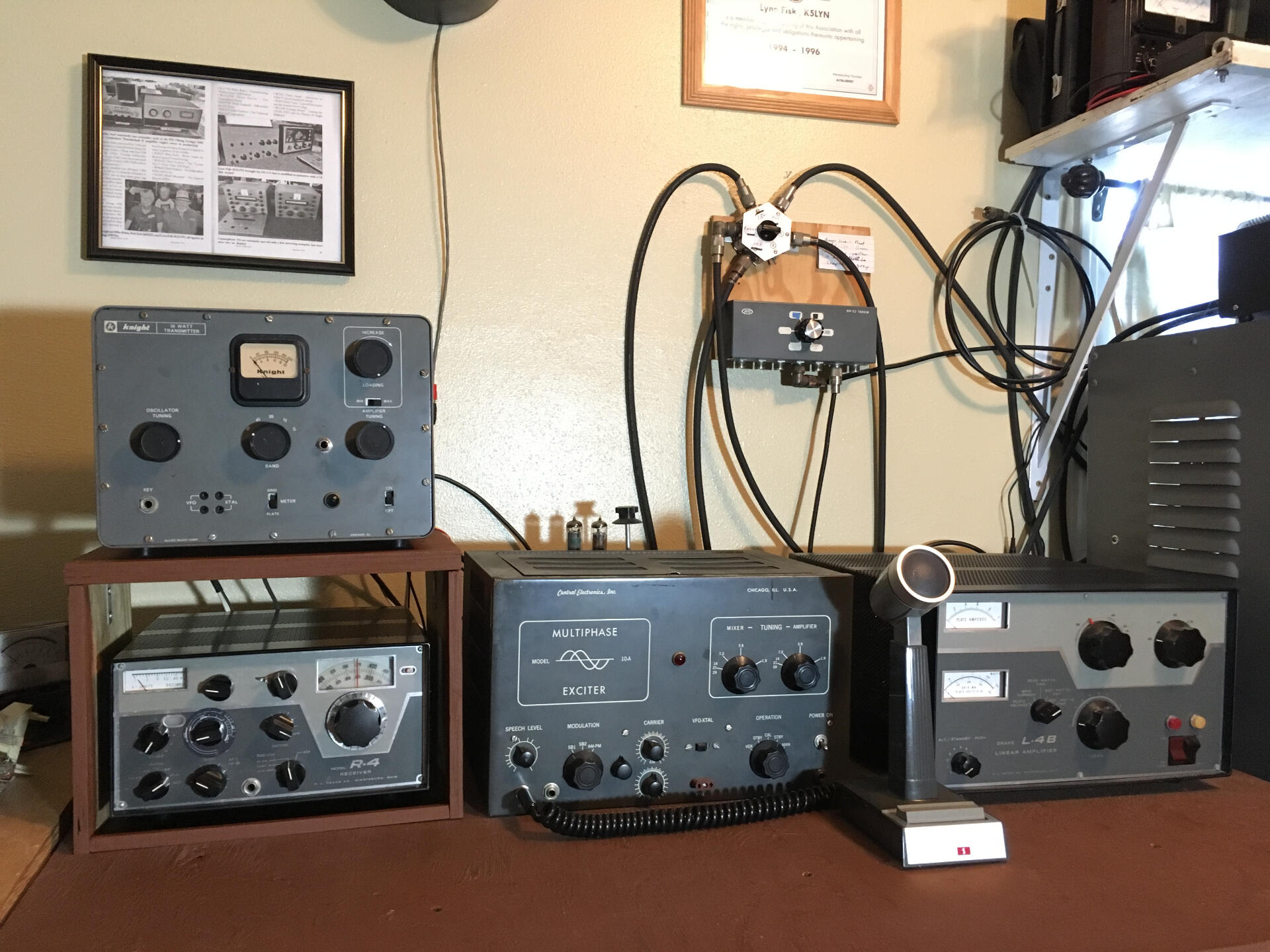 Glenn WB5L
My basement room is getting crowded with the Drake TR-4C, AC-4 and W4. The Hallicrafters SX-99 is a sweet sounding receiver. A new addition of the Kenwood 830S for a hybrid. A Heathkit SB-1000 and SA-2060 tuner rounds off the boat anchor gear with a smooth Kilowatt. The boat anchor radio bench is my handiwork as well.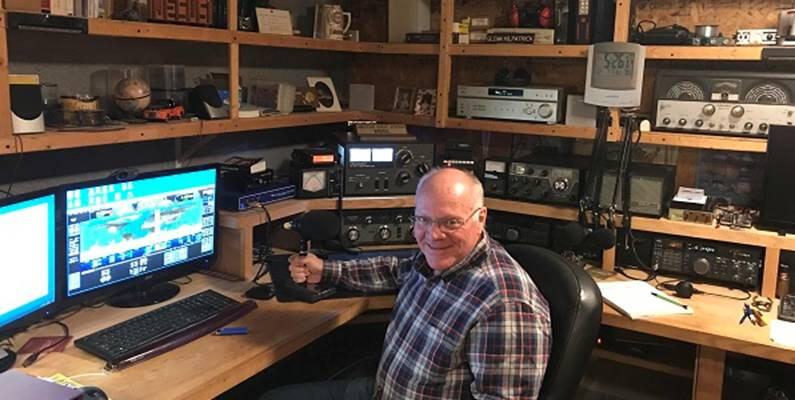 Matt KK5DR
This is my Yaesu FTDX-560 "project" radio. It's near perfect in appearance, but needs a complete electrical restoration. It will be awhile before it's done. Some day, I'll check in to the boat anchor net with it.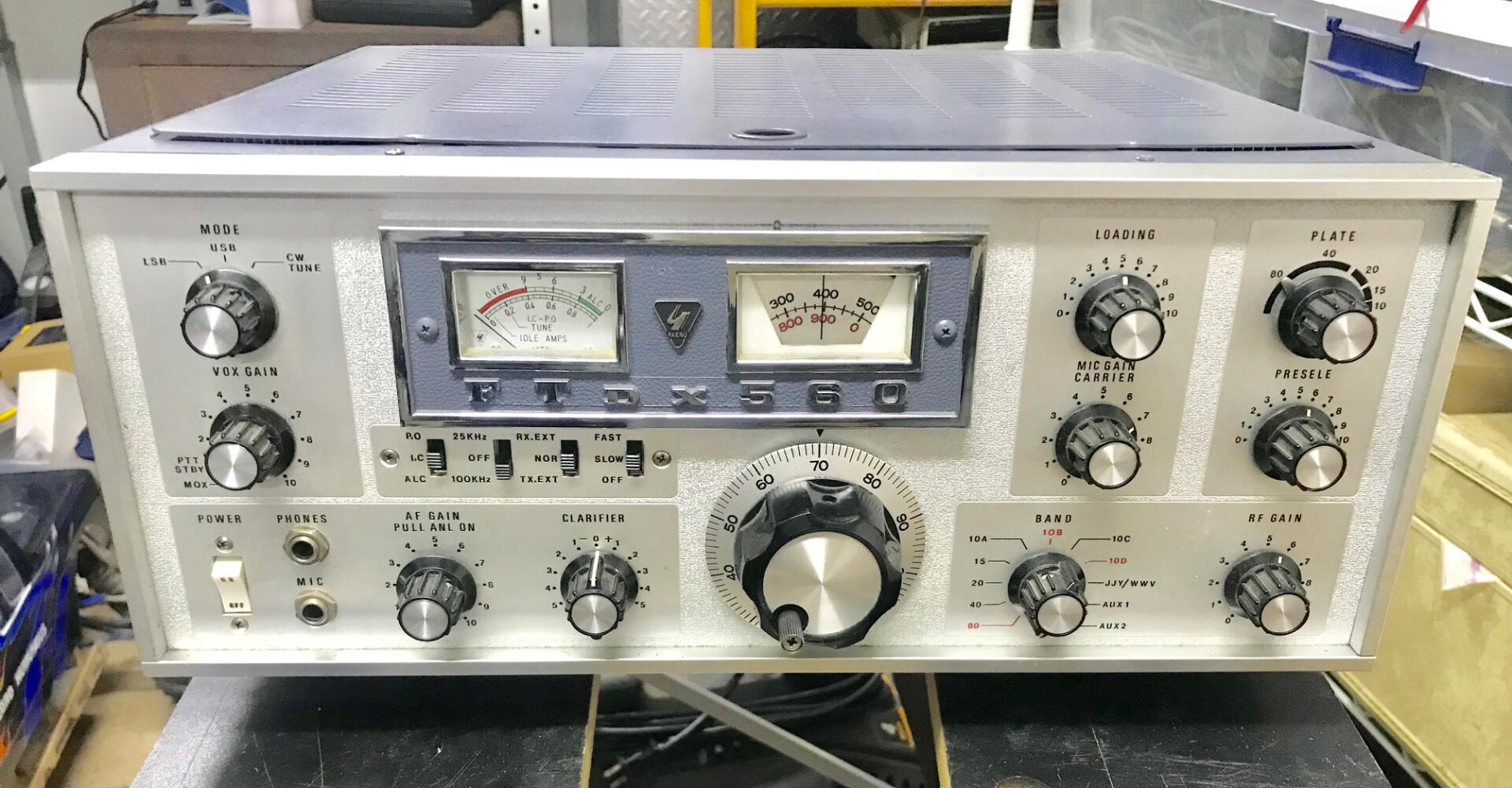 Matt KK5DR
The "Boat Anchor" setup of KK5DR.
YAESU FT-102, (3x) 6146B finals, 12BY7A driver. 190watts out. YAESU MD-1 desk mic, SP-102P speaker/patch.
250' long, balanced feed, Double Zepp, up 60'.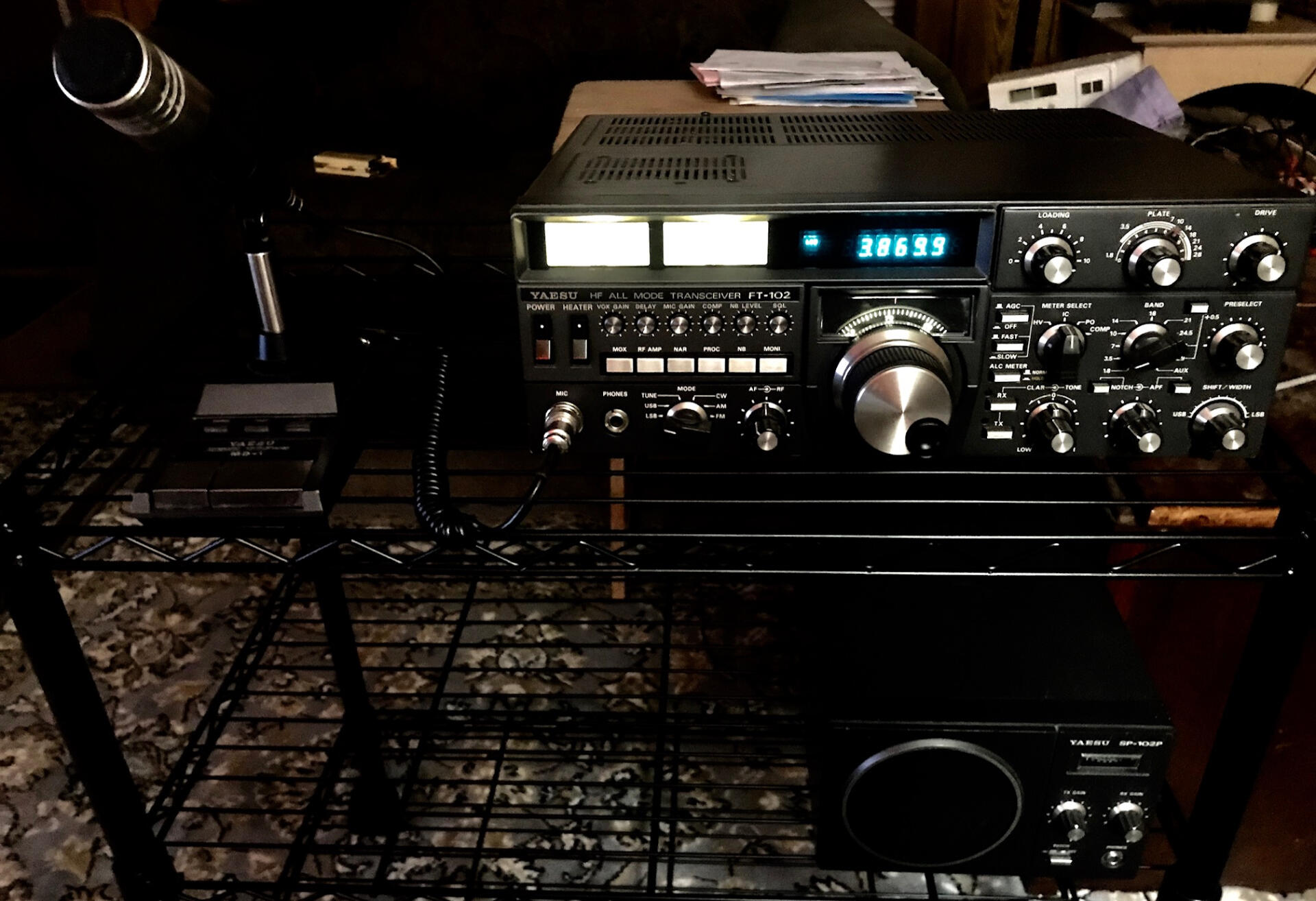 George WB5TXW
George WB5TXW and his Collins S-line boat anchor station. From Left to right on the bottom, power supply, 30L-1, 32S-1, 75S-3, speaker cabinet, all Collins. 1st shelf on the right the 51S-1, Collins, and a couple of modern radios.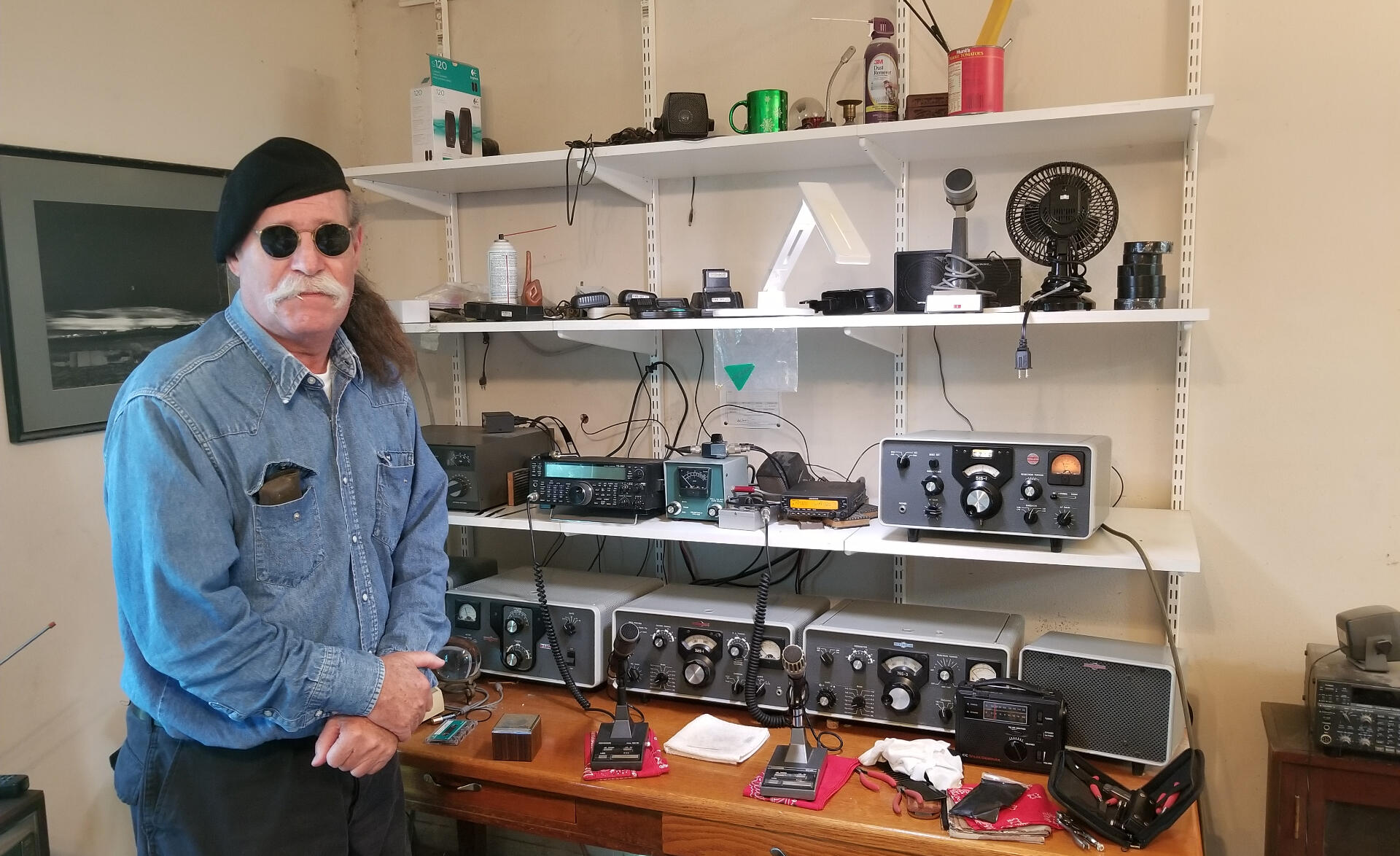 Don W5DK
C4 console, TR-4, R-4B T-4XBTwins, CC1 Converter Console, TC-2 and TC6 Transverters, MN-4 MN-2000 Tuners, MS-4 Speakers/ Power Supplies and the early L4 (not L4B) serial # 0000019, all this gear came from original owner Wally Gafford WB5DTW now SK. Also there's C Twins and a TR-4C from another SK.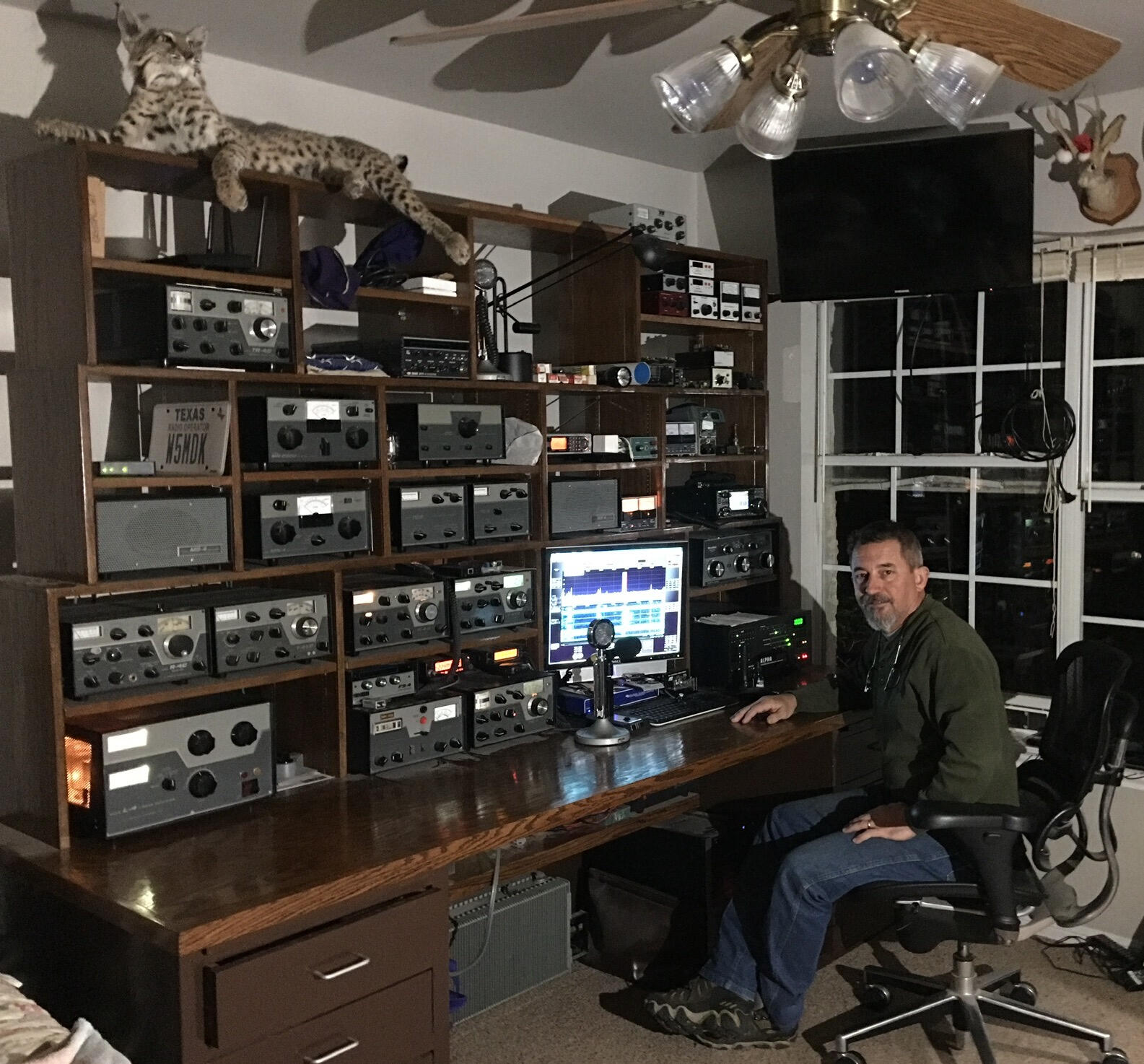 Wally WB5DTW (SK)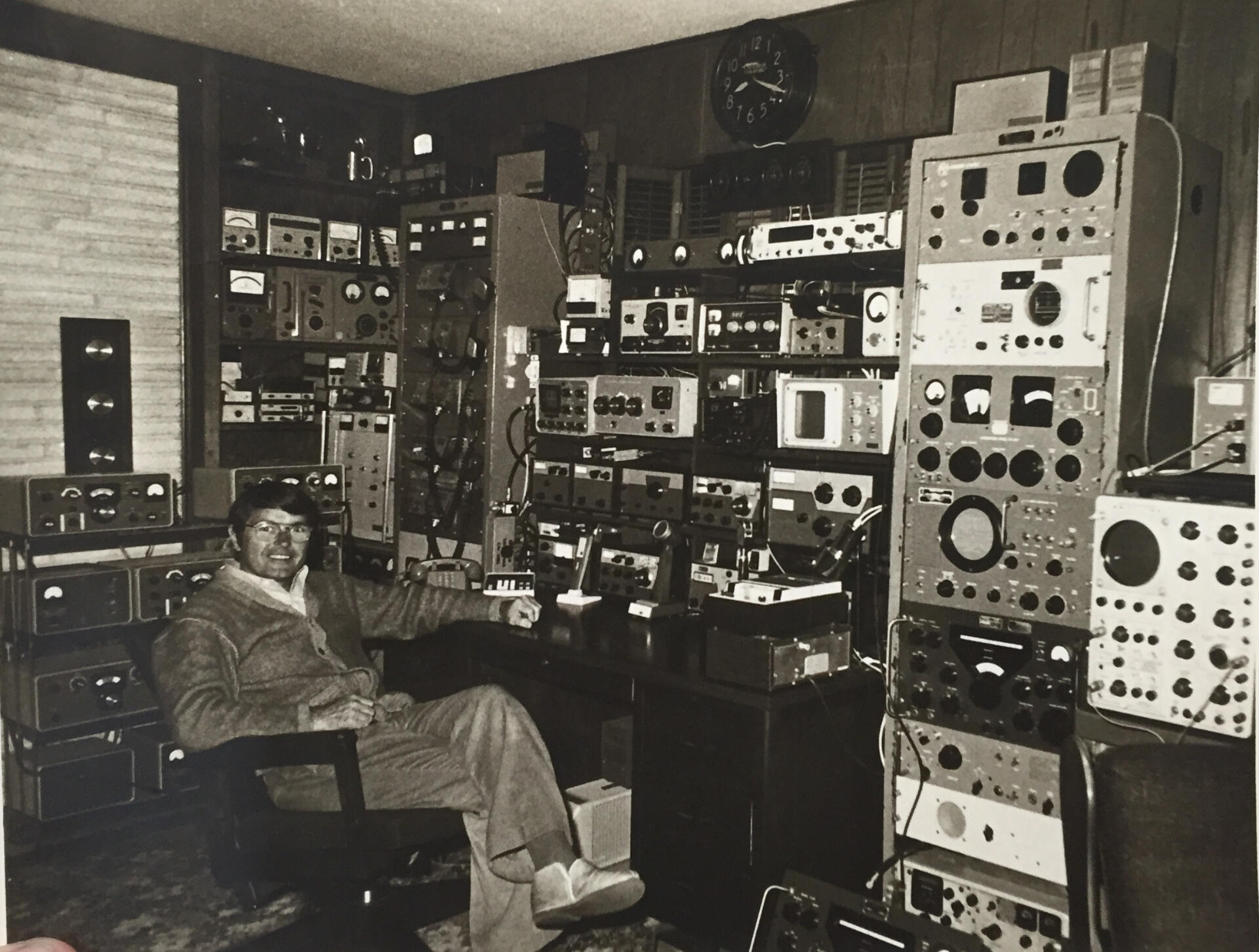 © All rights reserved.